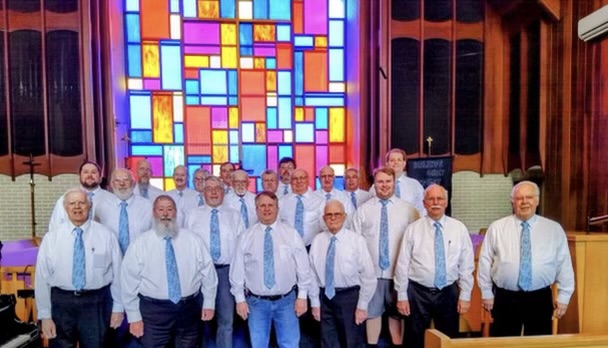 Welcome
Men in Harmony is an all volunteer men's chorus of twenty plus voices. We have been in active musical ministry since June 2000.
Our musical repertoire includes sacred, classical, gospel, spirituals, hymn tunes, and patriotic songs. We also do Christmas and Easter selections.
We use piano accompaniment and also sing a cappella in 2 and 4 part harmonies. God has blessed us with the ability to vocalize and we love to share our love of God with others through our music.
About Us
We are a male chorus of Christian men dedicated to providing a ministry through Christian music. We are unique in the sound we produce and also in our diversity of background, age, theology and experience. We come from 9 different denominations; our ages span from the teens to the eighties. Our Christian faith unites us in the love of singing Christian music.
This ministry began in 2000, we are now beginning our 22nd year of music and ministry to a broad audience, as one of the premier male choruses in Central Pennsylvania.
We are always looking for additional men to join the chorus and for additional venues to perform our concerts. We rehearse the second Monday and the third Tuesday of every month at 7:00PM in the Fellowship Hall (1st floor) of Trinity United Methodist Church in Elizabethville.
Advent Noel
While Shepherds Watched Their Flocks
Angels from the Realms of Glory
Thank You Dear Lord for Music (available on iTunes)
Give Thanks (available on iTunes)
Blades of Grass (available on iTunes)
Looking for a full list of recordings? Click here
These tracks from "2017 Program: Celebrating the Incarnation of Jesus Christ" are also available on iTunes.